The guide "School Garden: Basics of Tourist Guiding in Pictures"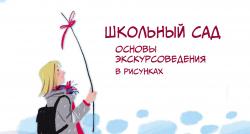 The guide is part of the programme "Agritourism". It is designed for preparing and conducting elective courses for pupils a well as career guidance. It is suggested for teachers, heads of interest groups, high school pupils and all interested in the subject.
The guide is prepared in four languages: English, Russian, Romanian and Ukrinian.
Authors of the guide: Liudmila Fakeyeva, Anna Vygonnaya
Illustrator: Svetlana Ryzhikova
Download the Guide (in English)
---
This publication has been produced with the support of the European Union and the Green Cross International. Responsibility for the content of this publication lies with the public organization "Green Cross Belarus", and it can in no way be taken to reflect the views of the European Union and Green Cross International