VI International Internet Exhibition-competition "Ears and paws" (Novosibirsk, Russia)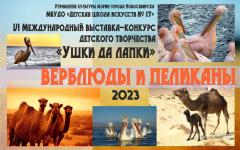 The Department of Culture of the Novosibirsk City Hall and the Children's Art School No. 17 of Novosibirsk invite children and teenagers from 3 to 17 years old – students and pupils of additional education organizations, general education and cultural and leisure organizations of Russia and other countries - to take part in the VI International Internet Exhibition–competition "Ears and Paws".
The deadline for accepting works is April 30, 2023.
Topic of the year 2023 – «Camels and Pelicans» (works that depict only camels and pelicans are accepted).
Contest nominations:
illustrations to author's or folk tales, legends, tales;
illustrations for works about nature, about animals;
animalism, drawings from nature, etc.;
decorative compositions (stylizations, decorative compositions);
decorative products (toys, panels, works in decorative techniques, etc.);
animalistic sculpture made of various materials;
collective work.
The competition is held remotely in three stages:
January-February 2023 – the information stage in educational organizations;
February-April 2023 – the direction of children's art works (photos, scans) to the e-mail address specified in the Regulation;
May-June 2023 – the competitive stage. Summing up the results, posting the results of the contest in the VKontakte group.
Publication of the electronic catalog of the competition, preparation of electronic diplomas of the winners – July-December 2023. Electronic diplomas of the contest participants are laid out in a group using a template and filled in by the participants themselves.
Works made in any technique of fine art are accepted for the competition: painting (watercolor, gouache, acrylic, and so on), graphics (simple pencil, pastel, colored pencils, wax crayons, pens, engravings, and so on), DPI (wood paintings, fabrics, textiles, decorative reliefs made of clay, salted dough, etc.). You can use mixed techniques of work.
Each participant (organization) may submit an unlimited number of works corresponding to the competitive nominations.
Contest entries are accepted electronically via an electronic form.
Applications for participation in the competition must be duplicated electronically by e-mail konkurs-dshi17@mail.ru
Read full terms of the contest
Competition Coordinator:
Nikonova Tatiana – phone/whatsapp 8-913-739-8820 konkurs-dshi17@mail.ru, dshi17@mail.ru