The jury of the 5th International Cartoon and Film-Strip contest "In My Homeland" choose the best films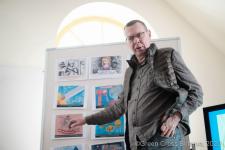 Professional artists, teachers, animators and directors from Belarus reviewed the works submitted for the contest on January 30-31, 2020, at the Green Cross Belarus educational center.
159 applications were submitted for the 5th contest, including 146 cartoons and 13 filmstrips from Belarus, Kazakhstan, Russia, Ukraine and Estonia. The main contest review included 65 cartoons and 11 filmstrips.
Cartoons and filmstrips were evaluated separately.Cartoons were evaluated also in three groups – individual, collective, and works of children with disabilities. The jury determined the winners and laureates among both cartoons and filmstrips, and many works were awarded with gratitude.
The results of the 5th International Cartoon and Film-Strip Contest "In My Homeland" will be published on our sites by the end of March 2020. We invite you to subscribe to the mailing list of the project "In My Homeland" in order to recieve information about the updates on the site (to do this, you need to send a request to the info@children-art.org).
The presentation and winners awarding ceremony will take place in April, 2020 in Minsk. The awards to winners, who will not present at the exhibition, will be sent by post before August 1, 2020.