The onion experiment enters the active phase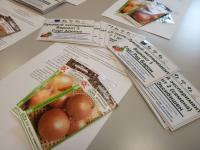 To conduct an onion experiment in the last weeks of February, the team of the "School Garden" project prepared and sent out a set of seeds and teaching materials for participating schools.
Varietal onion growing experiment will be held in 28 rural schools of Gomel, Vitebsk and Minsk regions from February to September 2020.
Onion is one of the popular and demanded crops grown in Belarus. Traditionally, it is planted through sowing, while it grows perfectly from seeds. According to Nikolai Kupreenko, сandidate of Agricultural Sciences, head of the Department of cold resistant crops at the RUE "Institute for vegetable growing", onion is easier and more economically profitable to grow from seeds - there is no need to grow sows and then to store them. In addition, the cost of onion seeds is much lower than sowing, and you can sow seeds both in early spring and in winter.
The participants of the experiment are faced with 4 tasks: 1) to conduct a comparative study of 4 Dutch and 2 Belarusian varieties; 2) to test sprouts and seedless ways of growing onions; 3) to identify the most productive and promising for different regions varieties; 4) to master the technology of growing onion seeds.
For the experiment, dutch onion varieties from one of the leading world seed producers of the Bejo Zaden company and Belarusian varieties, bred at the republican unitary enterprise "Institute for Vegetable Growing", will be used.
During the entire period of the experiment, its participants will receive consultations from specialists-agricultural technicians. Also, all teams will record the results of the experience in their diaries in accordance with the developed methodological scheme. It should be noted that the test experiment is conducted  under the scientific supervision of EE "Gomel State Regional Ecological and Biological Center for Children and Youth", RUE "Institute for Vegetable Growing " and RUE "Institute of Plant Protection" of the National Academy of Sciences of the Republic of Belarus.
Thus, the educational institutions, on the basis of which the experiment is being conducted, will become platforms, where students will get acquainted with new types and varieties of agricultural crops, learn effective and safe agricultural technologies, and will also be able to acquire labor and entrepreneurial skills.
---
This publication has been produced with the support of the European Union and the Green Cross International. Responsibility for the content of this publication lies with the public organization "Green Cross Belarus", and it can in no way be taken to reflect the views of the European Union and Green Cross International.