Training "Basics of Pricing and Marketing"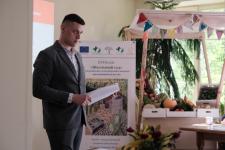 We invite the school teams that participate in the competition of business ideas "School Garden. From Idea to School Business" to take part in the training on the basics of pricing and marketing.
The training will take place on June 12, 2021 from 10.00 to 17.00 at the State Educational Institution "Yurtsevskaya Kindergarten - Secondary School of Orsha District" (the village of Yurtsevo, Orsha district, Vitebsk oblast).
Students and teachers, who implement business ideas in their schools, are invited to participate in the training . The number of participants from one organization is up to 5 people. The total number of the participants of the training is limited to 30 people.
Register to take part in the training .      
NB. Other interested schools may also take part in the activity.
The training is led by an economist, specialist in marketing Vitold Zenkovich.
Programme:
10.00-13.00 Teams study basic pricing rules and form a reasonable price for the product they produce accordng to their business idea
13.00-14.00 Lunch
14.00-17.00 Teams get acquainted with modern sales methods, prepare and present their sales strategy
The participants must have a clear understanding of ​​the content of their business idea, stages of work, expected results; they must know their products well and bring samples if possible. 
The Project provides transportation of the participants as needed and meals during the training. You are free to ask any questions, please, contact Elena Popova by e-mail e_popova@greencross.by or phone +375 29 373 02 99.