Online presentation pf the exhibition "In My Homeland-2021"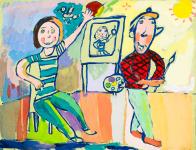 Dear participants of the contest "In My Homeland"!
We sincerely thank you for your active participation in the contest! Despite all the surprises that last year presented to us and continues to present this year, the contest took place! And we are happy to present to a wide circle of friends a wonderful exhibition of children's paintings and graphics!
On May 14, at 11:00, there will be an online presentation of works that were awarded with the Laureate Diploma with medal and an introduction to the schools and studios where these works came from. The event will be held on the basis of the Zoom platform. Pre-registration is required.
For more information write to the e-mail info@children-art.org и or call +375296277923, +375297049232 (Viber) Yulia Zhukovskaya