Online conference on the results of the "In My Homeland" contests jury work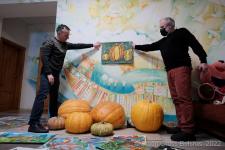 The jury members of the 18th International Art and Graphics Contest "In My Homeland", the 8th International Cartoon and Filmstrip Contest "In My Homeland" and the 1st International Photography Contest will gather on January 28 - February 1, 2023 at the GCB educational center "Ecology and Health" to select the best works. 
On February 1, at the end of the jury's work, an online conference "International Art Project "In My Homeland" and some issues of children's artistic creativity will be held. Based on the results of the jury's work in 2023." During the online conference, the jury members will share their impressions, reflections, discoveries and answer questions from the audience. The working language of the conference is Russian.
The online conference will be held in the format of an online broadcast with the opportunity to ask a question in a chat.
A question to the jury members can also be asked in advance in the application before January 30, 2023. All pre-submitted questions will be offered to the jury members before the jury starts to work.
The time of the conference is 10:00-13:00 Minsk time.
Information about the jury members of the competitions can also be found on the project website.
The results of the contests will be posted in April.