The 19th International Art Contest "The autumn colors" (Lipova, Romania)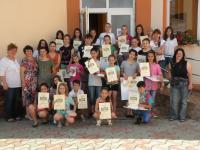 Lipova Children's Club and professor  Iordache Camelia are pleased to invite young artists age 5 to 19 to participate in the 19th International Art Contest "The autumn colors".
The term of works submission ends on June 30, 2022
Contest theme is to free choice, inspired by everyday life of children, by nature etc.
Age categories: 5 – 8 years; 9 - 10 years; 11 - 12 years; 13 – 15 years; 16 – 19 years.
Conditions for participation:
You can participate with an unlimited number of art works.
Art genres: painting, drawing, engraving, collage, mixed artistic techniques.
Size : not less than 21 x 30 cm; not bigger than 30 x 42 cm.
The artworks will be send together with a List of participants, in English  (name, surname, age, name of the school ), the complete address where you want to receive the documents, and the professor's e-mail address.
On the back side of each artwork, you will write in English, with Block letters  name, surname and age of participant and teacher's name and surname.
Group art works are not accepted.
Artworks will not be returned.
Last date to receive art works is June 30, 2022.
Please, send the art works to the following address:
Professor  IORDACHE  CAMELIA
CLUBUL COPIILOR
STRADA BUGARIU,  NR.10
LIPOVA,  COD POSTAL 315400,  JUDETUL ARAD
ROMANIA
You can contact organisers by phone or e-mail :
Professor IORDACHE CAMELIA – 0040745365611 and e-mail : camelya_72@yahoo.com