School Gardens Development Seminar for teachers of Belarus, Ukraine and Moldova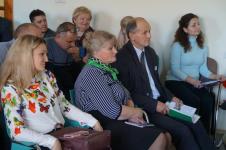 The international seminar "School Garden» as an educational platform for modern safe agricultural technologies" will be held in the educational center of Green Cross Belarus (Kryukovschina, Smolevichsky district) on June 24-29, 2019.
Participants of the seminar are the directors and teachers from Belarus, Ukraine and Moldova who are already participating or interested in the EU4Youth project: "School Garden" for Agricultural Entrepreneurship, funded by the European Union.
The seminar will begin its work on Monday, June 24, with welcoming words from the Delegation of the European Union to Belarus and the Ministry of Education of the Republic of Belarus. Project leaders will also remind the main ideas and directions of the project.
Over the course of five days, the seminar participants will get acquainted with the already emerging "School Garden" training and production incubators and the features of their modeling, modern and safe agricultural technologies, and the peculiarities of growing agricultural products in accordance with various methodologies.
For practical acquaintance with the experience of emerging training and production incubators, on June 27, the participants will visit several schools in Vitebsk region, which became winners of the 1st open competition "School Garden" as an educational platform for modern safe agricultural technologies».
Specially invited experts from the John Paul II Foundation (Italy) throughout the third day of June 26 will share their experience in promoting products of small agricultural producers, as well as creating and maintaining cooperation between them.
The final stage of the seminar, June 29, is a round table on the topic "School Garden Today", where the participants  will discuss problems, perspectives and ways of integrating the school garden into the educational process and into the global socio-economic network.
Vladimir Shevtsov: "The seminar brings together representatives of more than 40 of the most active rural schools with school gardens from Belarus, Ukraine and Moldova, presents the modern experience of Italian agriculture, and lays the foundation for creating an international network of school gardens as a tool for promoting safe agricultural technologies in rural areas of our countries. "
Contact Information:
Anna Grishina, tel. +375293139244
PR project manager
This publication has been produced with the support of the European Union and the Green Cross International. Responsibility for the content of this publication lies with the public organization "Green Cross Belarus", and it can in no way be taken to reflect the views of the European Union and Green Cross International.