The Jury of the Ist International Cartoon and Film-Strip Contest Have Finished the Work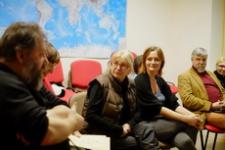 February 1 in the Educational Center of the Belarusian Green Cross the contest jury were evaluating the entries. The jury included the professional artists, educators, animators, directors, editors and journalists from Belarus and Russia.
Though the contest was held for the first time it has aroused a great interest. 73 cartoons and 16 film-strips from 6 countries participated in the contest. Belarus, Brasil, Germany, Latvia, Russia and Ukraine took part.
Cartoons and film-strips were evaluated ceparatly. As a result jury have defined diploma winners and laureates in every group. Some cartoons were honored a special motion of the jury.
Jury's work was ended with the round table during which participants watched winner cartoons and discussed how the process of cartoon creating can be used in the art education of children. During the discussion art studio "Ulej" from Mozyr presented their expirience. A teacher of the studio Eugeni Skarzhinski told how the idea to do the cartoons appeared, how the process in the studio is organized and had shown some trial works. At the end of the round table the jury of the art and graphic contest named the cartoons that could be mentioned for their artistic qualuty.
The results of the Ist International Cartoon and Film-Strip Contest will be published on our web-site in March, 2016.
The presentation and winners awarding is to take place on April 14, 2016 in Minsk. The winners, who will not be able to be present at the exhibition, will be sent the awards via post before June 1, 2016.