Exhibition of photos "Life Energy. Chernobyl. 30 years"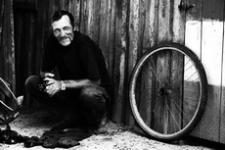 On April 13-23, an exhibition of photos "Life Energy. Chernobyl. 30 years" was held at the art gallery "University of Culture" of the Belarusian State University of Culture and Arts (Palace of the Republic)
The exhibition marked the beginning of the eponymous exhibition project that was held in Minsk and Bragin and probably would be continued  in Belarus and abroad.
The exhibition included photos made by Semyon Shevtsov, a talented Belarusian photographer, over the last 10 years. Some photos were made during a plein-air organized by the Green Cross Belarus NGO in April 2015 within the framework of the project "Development of the Network Capacity of Family Clubs in Chernobyl Area in order to Improve Social and Economic Situation" funded by the EU.
The opening ceremony was accompanied by Polesye songs performed by the music group "Vuraj" which made such a wonderful atmosphere so that visitors could better understand things captured in photos and displayed at the exhibition. Vladimir Shevtsov, the head of the Green Cross Belarus, and Natalya Svyatkina, the project manager, delivered speeches at the opening ceremony in which highlighted that the photos reflected real life of the district, and it was very interesting to observe and participate in it.  When sharing impressions with visitors, Vladimir Gilep, the Chairman of the Belarusian Culture Foundation, mentioned that a photograph, especially an unbiased one, was the language, which should be used to talk about such events. Representatives of the Belarusian Peace Foundation also spoke about the importance of the exhibition as a means of covering the real situation.
The visitors of the exhibition highlighted emphasis of the photos. They had captured those things that changed perception of the district as despite its sad past and modest development prospects, the exhibition absorbed a lot of positive moments that a camera had captured: a good relationship between people, a traditional contact with the land, nature and household, lives of the children as the country's future, etc.