"I Love Armenia" Exhibition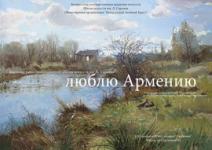 Opening of the "I Love Armenia" exhibition of works created by teachers of the Arts School n.a. L. Saryan is to be held at 5 p.m. on February 2, at the gallery "Akademiya", 14 Surganova str., Minsk.
The exhibition will include paintings by Alina Kazaryan, Arpine Avagyan and Artur Vantsyan, graphics by Anush Arutyunyan and Artur Akopyan, sculptures by Artur Sargsyan and works of decorative art by Anzhela Machkalyan.
Each work displayed at the exhibition is filled with love to Motherland: its nature, flowers, figures, history, traditions and people. Artists have given their own special meaning to each detail and figure used in the works to help observers understand better this country.  
According to one of the managers, Armen Vantsyan, an Armenian artist, the exhibition is aimed at strengthening friendship and mutual understanding between Armenia and Belarus. Moreover, the exhibition is a communication platform for Belarusian and Armenian artists since it is held before the 7th International Conference of Artists-Teachers "Modern Artistic Education of Children and the Young".
The exhibition is organized by the Green Cross Belarus NGO together with the Arts School n.a. L. Saryan (Yerevan, Armenia) supported by the Belarusian State Academy of Arts within the framework of the International Art Project "In My Homeland".
The exhibition will run until February 16, 2016.
For additional information please contact
Lyudmila Skakun
e-mail: info@children-art.org
Web-site: www.children-art.org
Tel.: 375 17 327 79 54, 375 25 908 65 94